Most of the laundry shops in Malaysia have equipped with chemical pump for supplying free detergent, softener and sanitizer to their customer. This facility has really created convenience to the customers. Most of the customers are satisfied for this extra service provided. Due to that, laundry chemical level monitoring is getting more important since it will directly impact customers experience.
However, in order to provide continuous supply of washing chemicals, the laundry operator needs to always go down to the shop and check for the chemical level in the barrels. Sometimes, it might be cleared out during the peak period, and customer might call the operator up to complain about the shortage. This might create a bad image to their customers and they might switch to other Laundry shops.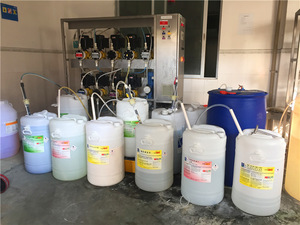 What if you can monitor the chemical level at your phone in real time ? You can plan your time more effectively when you can have the remaining percentage of the chemical left in the barrels. When the chemical level lower than certain percentage, is not it be awesome where there is an alert to you before your customer complain to you ? That is what laundry chemical level monitoring providing.
In fact, in our Laundro System, it does include laundry chemical level monitoring feature for the Laundry Operator to monitor their chemical level in real time without need to go to the laundry shop frequently. Laundro will initiate an email to you when there is a shortage in chemicals. Furthermore you can always check its status on laundro dashboard and plan for the refillment process. Only when most of the jobs are being automated, then Laundry Operator can spend their time more efficiently. Therefore for a self service laundry to be truly self-service, operation cost should be minimum.
Read more about theLaundro on our site! Or check out Laundromat Management System (theLaundro) directly!